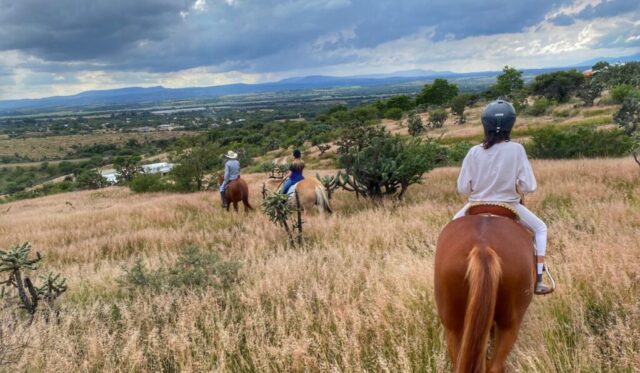 Trail Rides In San Miguel de Allende
The Ranch SMA offers Trail Rides in San Miguel de Allende to small groups. You will experience the joy of some of the most stunning vistas and photo opps our area has to offer. Choose from a rugged mountainside stroll to the windswept open plain surrounding the Presa Allende and more.
Wear long pants with closed toe shoes, preferably with a short heel. Jeans and cowboy boots are great! Or whatever you have that's similar. We will loan you a helmet if you don't have one handy.
Duration: Choose from 1 hour up to full day rides.
We offer trail-safe horses and comfortable saddles – Western or English.
Prices
1 hour – 800p per person
Ideal for families with kids, seniors + beginners
2 hours – 1600p per person
Ideal for beginners and intermediate riders, no kids
3 hours – 2000p per person
Ideal for intermediate and advanced riders